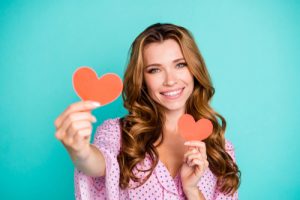 Valentine's Day is a great time to show the one you love or appreciate most that you care, and over 50% of Americans are expected to do just that this year. That's about 10% lower than it was just a couple of years ago, but spending is up. According to the holiday trend analysis, the average person spends just over $221 for Valentine's Day with the top priorities being the wife, kids, and themselves… followed by girlfriend, friends, husband, and even a pet. While you never have to wait for a special holiday to pamper yourself, Valentine's Day can be the perfect time to show yourself some love. And your Midtown Manhattan Dentist can help with the following smile makeover solutions.
Brighten Your Pearly Whites
Schedule an appointment with your Midtown Manhattan Dentist and get a smile upgrade during your lunch hour. There's no doubt some over-the-counter whitening kits do work in a pinch. But the bleaching solutions are a one-size-fits-all option that ends up being far weaker than the professional variety. The pros at Midtown Manhattan Dentist can access your specific needs and create the perfect customized solution to get you the whitest and brightest new smile as quickly and safely as possible.
Kick Those Cavities to the Curb
Approximately 17% of kids and 32% of adults currently have untreated or even undiagnosed dental caries. The issue with that, beyond the obvious individual health concerns, is that the bacteria that cause decay can actually be transmitted to other people via saliva. So in essence, kissing, drinking from the same straw, or even sharing a romantic desert can, in fact, spread cavities to your loved one. Schedule a cleaning and checkup with your Midtown Manhattan Dentist to kick that decay to the curb and be kissable for your Valentine.
Give Your Teeth the Royal Treatment with Dental Crowns
Several dental issues can be corrected with a simple fix: a dental crown. These porcelain or resin caps can be customized to conceal or correct chips, fractures, hairline cracks, badly stained teeth, and weak teeth that are at higher risks of breaking or developing ongoing decay. And to top it off, dental crowns are among the quickest, most inexpensive, and most reliable treatment for multiple issues. A permanent crown can take up to a few weeks to finish. But if you schedule an appointment quickly enough, and those correctly placed dental crowns just might help you land your very own prince or princess this Valentine's Day.
Invest in Your Smile with Porcelain Veneers
Gaps, chips, cracks, misalignment, bite issues, stains, and jagged teeth are serious concerns. And even one of those "problems" can result in missed life opportunities or ongoing confidence issues. Porcelain veneers can be the personal investment you need if your less-than-perfect smile is negatively affecting your potential. These porcelain shells are about the width of a contact lens and fit directly over the affected tooth or teeth to conceal aesthetic dental concerns. Depending on the number of porcelain veneers needed they can be usually completed within a couple of appointments and last for years to come. Call your Midtown Manhattan Dentist today to start showing yourself some love with a Valentine's Day smile makeover.