FaceLifts by FaceMagic
(Now just $99/month)
Life changing out-patient plastic surgery.  No anesthesia, less downtime, and affordable.
Are you looking to combat signs of aging around the face? A facelift (also referred to as rhytidectomy) is a popular surgical procedure used to reduce sagging, lessen facial lines and creases, and tighten fatty areas, leaving you with a more youthful appearance.
Our doctors at FMCs specialize in all areas of cosmetic facial surgery, and is an expert in the facelift. In fact, our doctors have been performing facelifts since 2009 they have performed more facelifts than any other doctors in America. Our facelifts are not conducted under general anesthesia, so they are safer and require less downtime. So if you're looking to shed some years and leave those lines and loose skin behind, then FaceMagic is the place for you.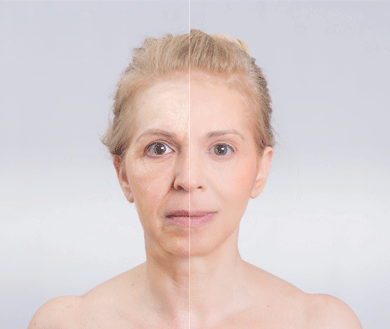 Why get a Facelift?
The appearance of age brought on by wrinkles, fatty tissue and loose skin can arise from a variety of sources. Heredity and stress are two major causes that exacerbate the aging process, while other lesser-known factors may come into play, such as environmental conditions. These agents are the cause of unwanted facial attributes, such as sagging skin, double chins and jowls, but fortunately the facelift procedure we provide at FaceMagic Centers is a direct solution to this age-old problem.
Some of the main benefits of receiving a facelift from the doctors at FaceMagic Centers:
We use local anesthesia only (quick, simple numbing injection)
Results are long-lasting
Safely performed in our office
Minimal bruising, swelling and recovery
Popular for both women and men of all ages
Limited downtime
Anyone experiencing the symptoms of aging is a candidate for facelift surgery, including patients in their 50s and 60s, as long as they are in good health. Younger patients are also qualified to receive the surgery. Various techniques for facelifts allow for the procedure to fit patients of all ages specifically.