Facial Resurfacing
using a CO2 Laser
Facial laser resurfacing is a safe and trusted procedure that has been practiced for many years.
Laser skin resurfacing can treat a number of facial issues, including:
Sun Damage
Wrinkles
Scars
Superficial Skin Cancers
Enlarged Oil Glands on the Nose
One of the most common symptoms of patients seeking laser resurfacing is sun damage. When we are young, we spend a lot of time laying in the sun, not realizing the effect it has on our skin.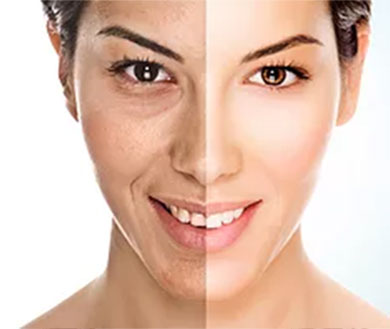 Are you a candidate for CO2 laser resurfacing?
CO2 laser resurfacing may not for everybody. There may be certain circumstances that may disqualify you for this procedure. If you are have thoughts about getting CO2 resurfacing done schedule a face-to-face initial consultation with one of our doctors at Face Magic Centers and discuss all of your options. During your consultation, the staff at FaceMagic Centers will listen closely to all of your concerns and desires in regards to any procedures you are thinking of. We always listen to our patients and consider your preferences and goals when helping you decide which procedure is best for you. We will always help you to develop a customized surgical plan to specifically fit your needs!